How to Decorate Your Table for Easter (Plus, Cute Ways to Style Eggs!)
Spring has sprung, and with it comes the celebration of Easter. No matter the Easter feast you have in mind—be it a tasty breakfast, a delectable brunch, or a mouth-watering dinner—a well-decorated table can work wonders in elevating the mood and making the occasion truly memorable. To make Easter decorating easier than ever, ReadyFestive offers four Easter-themed décor boxes: Neutral, Blue & White, Pastels, and Religious. With the items in these boxes and some inspired décor ideas, you can turn your ordinary dining table into a delightful Easter wonderland that will make the holiday feel extra special. ReadyFestive Easter-Themed Boxes
Did you know?
Spring has sprung, and with it comes the celebration of Easter. No matter the Easter feast you have in mind—be it a tasty breakfast, a delectable brunch, or a mouth-watering dinner—a well-decorated table can work wonders in elevating the mood and making the occasion truly memorable.
To make Easter decorating easier than ever, ReadyFestive offers four Easter-themed décor boxes: Neutral, Blue & White, Pastels, and Religious.
With the items in these boxes and some inspired décor ideas, you can turn your ordinary dining table into a delightful Easter wonderland that will make the holiday feel extra special.
ReadyFestive Easter-Themed Boxes
#1: Neutral Theme
The Neutral box is designed for those who prefer a simple, understated aesthetic. This theme features natural materials and a color palette comprised of organic and earthy tones, such as beige, ivory, and taupe.
Tips for decorating with a Neutral theme:
Image Source: The Home Edit
Incorporate natural textures: Use natural textures, such as wood, rattan, and burlap, to create a rustic and earthy feel. A number of the items in the Neutral box fit the bill.
Add greenery and white flowers: Fresh greenery can add natural beauty and a pop of color to the table. Consider eucalyptus branches, faux moss in small wire baskets, or small potted plants. Showcasing white flowers in a vase is another nice touch!
Create decorative birds' nests: DIY birds' nests are a lovely decoration made of natural materials. Fill the nests with faux eggs, like the twine-wrapped ones in the Neutral box, or dyed Easter eggs. The nests can be placed on top of the plates (with a napkin buffer) as a decoration before food is served, or anywhere on the table.
#2: Blue & White Theme
The Blue & White box is ideal for those seeking a timeless, elegant look. These two colors never go out of style and exude holiday cheer and refinement.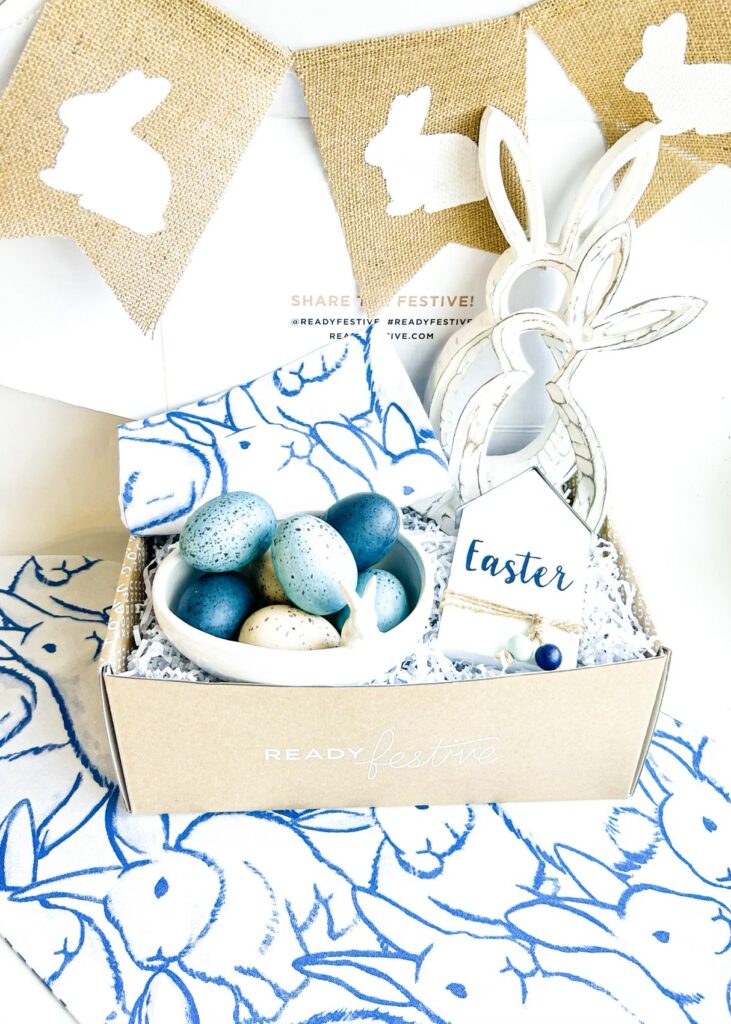 Tips for decorating with a Blue & White theme: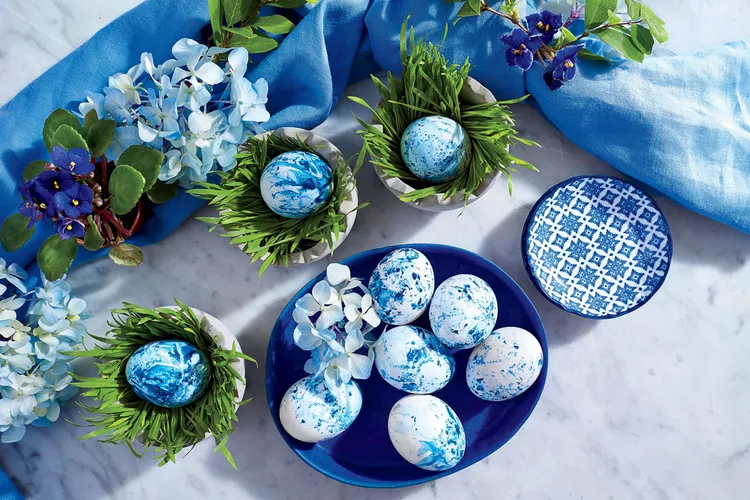 Image Source: Southern Living
Embrace blue and white ceramics: Incorporate blue and white patterned plates, bowls, and cups to elevate your tableware. You can mix and match patterns to create a unique and eclectic look or stick to a specific design for a more cohesive feel.
Display flowers: Blue and white flowers, such as hydrangeas, delphiniums, white roses, and bluebells, can create a serene and elegant look that complements the Blue & White theme. You can even scatter some blue and white flower petals or buds around the table.
Create a plate display: For an adorable and eye-catching plate display, take a small bowl, line it with a bed of ryegrass, and place one of the faux blue eggs from the Blue & White box into the bowl. Put a blue napkin on each person's plate and then place the bowl on top of the napkin.
#3: Pastels Theme
The Pastels box is perfect for those who love soft, delicate colors that evoke the beauty of spring.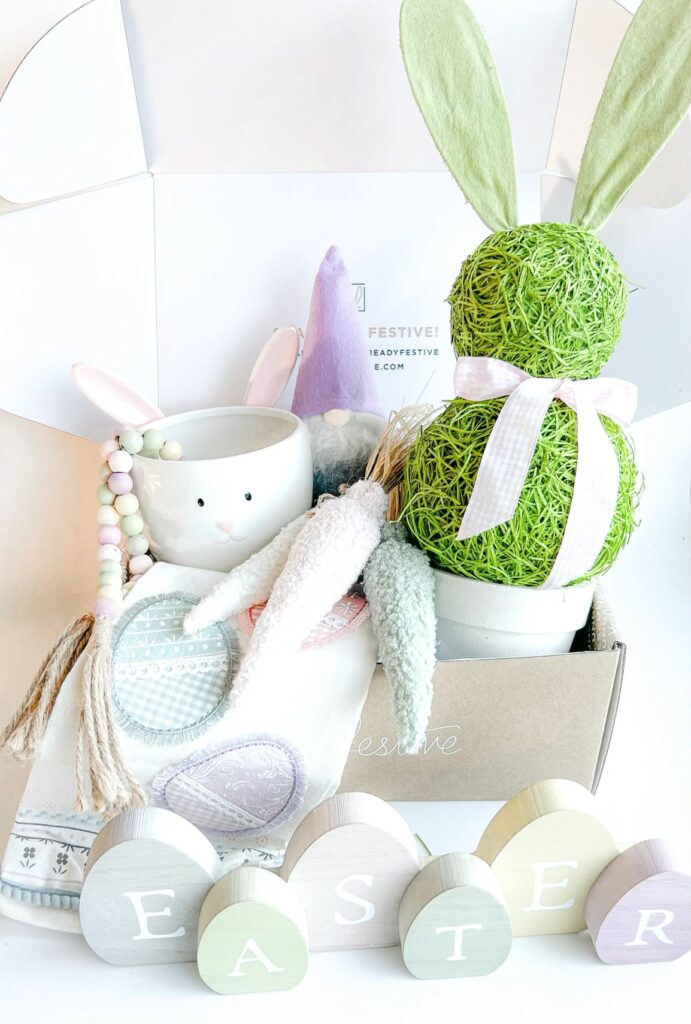 Tips for decorating with a Pastels theme:
Image Source: Style By Emily Henderson
Incorporate bunnies and eggs: Pastel colors are quintessentially Easter, so to play to the classic Easter theme, incorporate lots of bunnies and eggs. You'll find a few such items in the Pastel box!
Add metallic accents: To add some shine and glamour to the table, incorporate metallic accents. Use metallic cutlery, napkin rings, or small decorative elements like votive candle holders.
Embrace pastel flowers: Pastel flowers, such as pink roses, lilacs, and tulips, can create a soft and delicate look that complements the Pastels theme. To display the flowers, you can use a pastel-colored vase or a clear vase with a pastel ribbon tied around it.
#4: Religious Theme
The Religious box is designed for those who wish to celebrate the religious significance of Easter. The color palette is composed of natural and earthy colors, such as beige, brown, olive green, or any colors that hold religious symbolism and meaning to you.
Tips for decorating with a Religious theme:
Image Source: Oriental Trading
Use candles: Candles are a traditional element of many religious ceremonies, and they can add warmth and ambiance to your Easter table. Use simple white or beige candles to create a serene and peaceful atmosphere.
Incorporate religious symbols: Display a cross, religious figurines, religious terms (like the "He is risen" wooden blocks), or other symbols that hold meaning to you or your family.
Add natural elements: Incorporate natural elements, such as flowers, woven placemats, or greenery, to add texture and depth to the table décor. White tulips, in particular, are associated with springtime, new beginnings, and rebirth.
Creative Ways to Style Eggs
Eggs are an Easter staple and can be used in many creative ways to enhance your Easter tablescape. Here are some creative ways to style eggs:
#1: Easter Egg Napkins
Fold napkins into bunny ears and place a dyed or decorated egg in the center where the bunny's face would be. This creates a fun and festive touch to your table setting.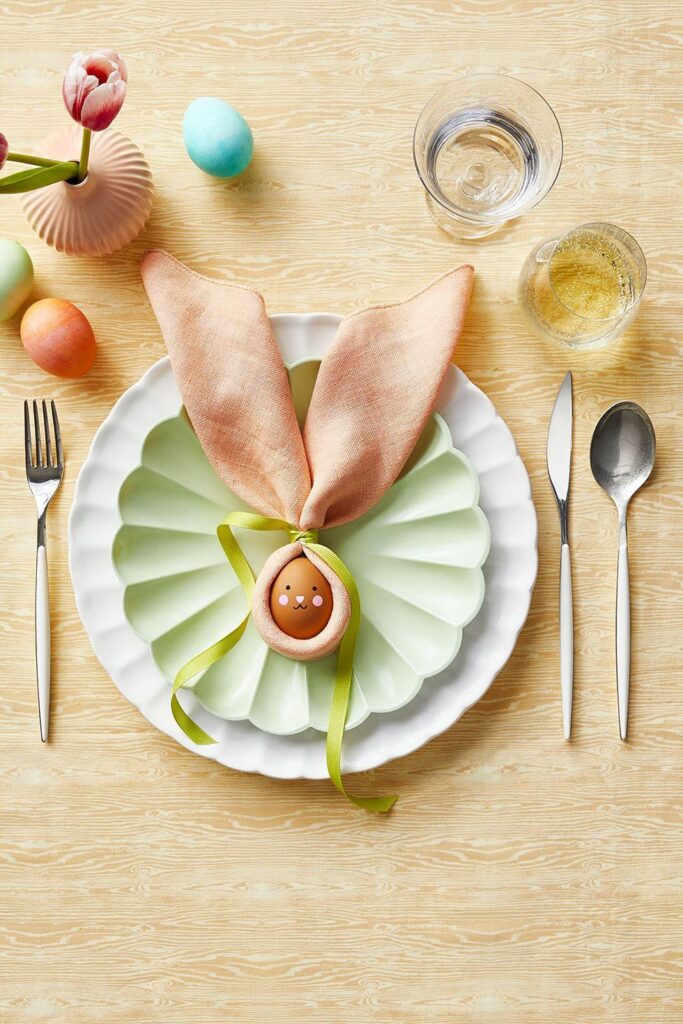 Image Source: Women's Day
Image Source: Country Living
#2: Egg Planters
Fill a small pot with soil, grass, and other foliage, with a dyed or decorated egg placed in the center. The result is a charming and colorful addition to your table setting that also serves as a thoughtful gift for your guests to take home.
Image Source: Country Living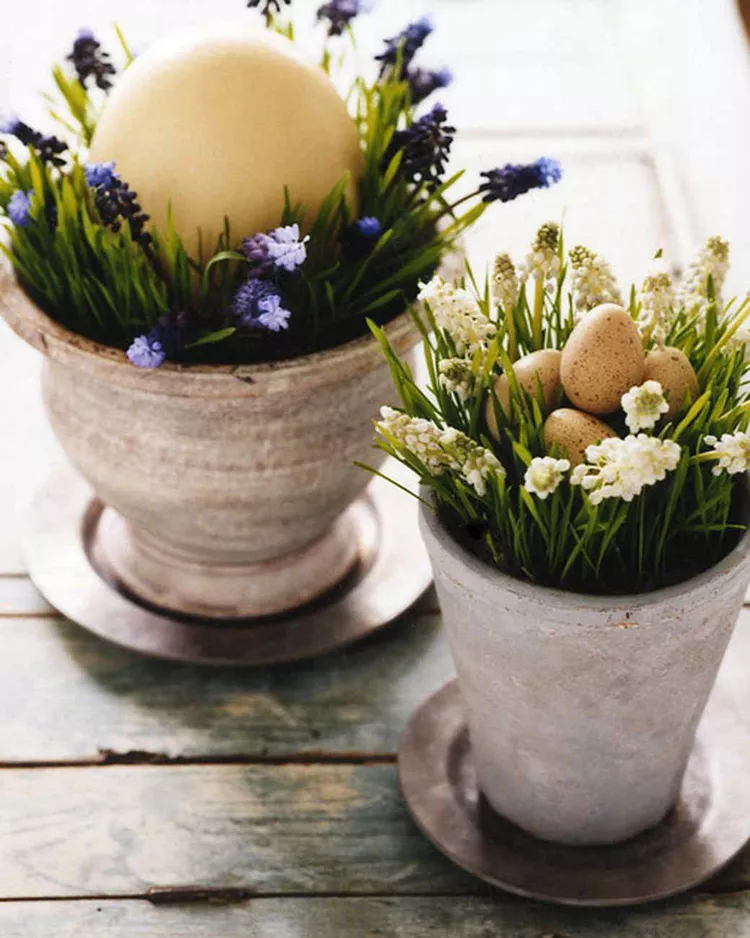 Image Source: Martha Stewart
#3: Candlestick Egg Display
Use colored eggs as a decorative element on top of candlestick holders. Varying the height of the candlesticks creates visual interest and adds a touch of elegance to the table.
Image Source: Country Living
#4: Egg Bowl Centerpiece
Fill a decorative bowl with a mix of dyed or decorated eggs. You can choose to use eggs in one color scheme or mix and match them for a vibrant and playful look.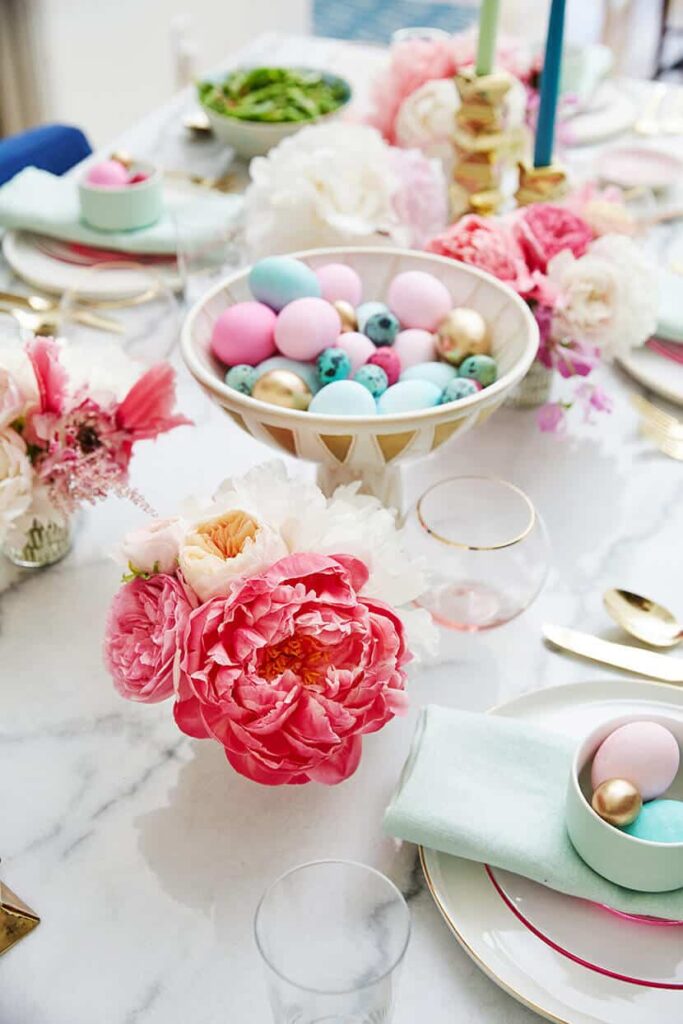 Image Source: Emily Henderson
BONUS: Want to serve something creative and delicious on your Easter table? Try this recipe: Easy Cinnamon Roll Bunnies with Orange Glaze.
Get Easter Ready with ReadyFestive
If you're looking for Easter decorations that fit your personal style, ReadyFestive has you covered! To set up your subscription, simply choose which holidays or seasons you'd like to receive decorations for. You'll then be prompted to complete a survey to help us determine your favorite themes. Don't have any specific preferences? No problem—we'll surprise you!
Join the ReadyFestive family today to get one of our carefully-curated, Easter-themed boxes delivered straight to your door, allowing you to prepare for this holiday with ease. If you're already a subscriber, you can add a box to your subscription here.
Don't forget to tag #ReadyFestive on Instagram or Facebook to show us your egg-cellent décor!